To Contact the Registrar's office
+ + +
INTRODUCTION

The Scholasticum  intends to offer 3 Post-Graduate Level Specializations: Medieval Biblical Studies, Scholastic Philosophy and Scholastic Theology, for those students pursuing  M.A., STL. or STD degrees or their equivalents, in either the civil or ecclesiastical university systems, and for those with these degrees who want to deepen their understanding of Scholasticism, of which any of the courses can be taken separately or independently from the others.
All our courses are also available telematically, that is, through the Internet via video-conferencing. The classes are taught synchronically, that is, live, and students participate in class in real time. Students completing our courses as Discipuli, both those who study telematically and those who study with us in person, will receive Certificates of Completion and grades.
For the times of the day our courses are offered, see our news page for the published schedules.
The nascent Institute will seek accreditation in each of the 3 cycles of studies it offers, from both the Catholic Church (Theology, Philosophy) and the Republic of Italy (Philosophy, Medieval Studies). Many of our courses will be eligible for transfer credit programs, but this depends upon the institution to which the student is transferring.
Our classes are open to laymen, religious and clergy. Students studying telematically are required to acquire the textbooks for each class, since as an institute The Scholasticum gives particular emphasis on the use and study of books.  S
HOW TO REGISTER
To begin the registration process contact the Registrar using the form at the top of this page.
REGISTRATION FEE PAYMENTS

There is no fee required to register as a student, as of yet.  Fees for courses must be made elecronically by PayPal or Stripe to the US Non Profit which is supporting the Institute (Save Old St. Mary's Inc.). Students will be required to have paid their tuition in full before classes begin.
TUITION FEE PAYMENTS
Pay only if you have contacted the Registrar to sign up for the course.
---
DOCUMENTS AVAILABLE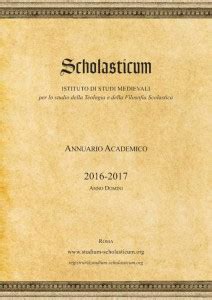 For an electronic copy of the Polyglot edition of our Annuario (June 7, 2016 edition):

click here (PDF format, 1.65 MB)
This Annuario is in
Italiano,
English,
Español
& Français.
+ + +
For a Promotional Poster for your Faculty or to share by Email or Social Media: