The Scholasticum Crowd Funding Campaign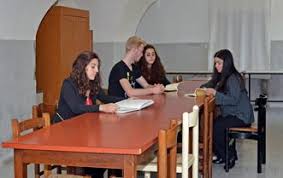 The Scholasticum is an institute dedicated to the revival of the study of theology and philosophy according to the method used by Saints Thomas Aquinas and Bonaventure of Bagnoregio, at the University Paris in the mid 13th century.
The institute was founded at Bagnoregio, Italy to offer classes to students world-wide by means of electronic video conferencing. (Click here for more information)
We are seeking the funds necessary to establish a Campus at Bagnoregio and provide for our Administrative costs for each of our Academic years.
Your generous donations will assist us in providing Holy Mother Church with an institute of Scholastic studies at the service of future theologians and clergy for the universal Church, and this at a time in Her history which She is most in need of students of the glorious Doctors, Sts. Thomas and Bonaventure, whom Pope Sixtus V declared to be the 2 great lights in theology for the illumination of the Church through all ages. (Read Pope Sixtus's Bull about them, paragraph §10).
You can make your donation by check, credit card, Paypal.
To make a donation by check,
send your check to
Scholasticum Crowd Funding Campaign
16 Laurie Lane
Westminster, MA 01473
USA
Make your check payable to:  Save Old St. Mary's Inc. You donation is tax-deductible on your US  Federal Return.*
To make a donation by PayPal or Credit Card
All Donors who would like to make a tax-deductible donation, Our CrowdFunding Campaign is being run by Save Old St. Mary's Inc, a USA IRS 501(c)(3) non profit, all proceeds of which, after PayPal fees will go to the Scholasticum. By clicking this button, you can therefore make a donation to the benefit of The Scholasticum along with the applicable tax-advantage on your Federal Return.

_____________
* We ask that checks NOT be sent to our address in Italy by any means, since the Italian Post is not secure. Save Old St. Mary's Inc, is a USA, IRS recognized 501(c)(3) non profit, incorporated in the Commonwealth of Massachusetts. All donations to the Campaign go to the Scholasticum.